Hello Cincy Executive is a 6 session program designed for C-Suite and Executive employees who are new to the Cincinnati region within two years. 
What is Hello Cincy Executive?
Over 6 sessions, participants will gather for unique experiences at premier venues around the region to explore Cincinnati's assets, history, economic landscape, arts & culture, and much more. Each of the program's sessions will offer an opportunity to connect deeply with other newcomer and top established executives in an intimate setting – building awareness of the Cincinnati agenda while making business connections and developing elevated external relationships. For more insight on current participants, see our latest news release on Hello Cincy Executive.
Facilitate meaningful connections among participant newcomer executives, peers, and community leaders as well as to vital resources throughout the Cincinnati region.
Cultivate and strengthen leadership skills through active development regional civic engagement in mind.
Foster a deeper comprehension of the unique assets and opportunities the Cincinnati region offers.
Engage participants in a collaborative short-term community or volunteer project that impacts the region's inclusivity and sustainability efforts.
Executives who have relocated to the Cincinnati region within the last two years, seeking to enhance their civic and community engagement.
Topics mays include:
Assessments of leadership and communication styles
Embracing inclusive leadership principles
Analysis of the business and economic landscape
Information about how to be civically engaged
Exploration of regional history
Acquiring insights into community assets, facilitated by tours of diverse Cincinnati landmarks
Addressing talent attraction, retention, and job development within the region
Integration with the Arts & Culture of the Cincinnati region
Participation in small group activities aimed at enhancing team dynamics and contributing to the progress of the Cincinnati region
Hello Cincy Executive 2024 Timeframe:
Program Kick-off/Session 1: March 25, 2024 | 4-9 p.m.
Session 2: April 8, 2024 | 4-9 p.m.
Session 3: April 29, 2024 | 4-9 p.m.
Session 4: May 10, 2024 | 4-9 p.m.
Session 5: June 3, 2024 | 4-9 p.m.
Program Celebration/Session 6: June 24, 2024 | 4-9 p.m.
Applications for Class 2 open December 15, 2023. Fill out the form below to receive updates on applications
$50 (non-refundable). Applicants will be asked to pay via credit card at the end of the online application process.
Questions? Contact Kabrella Clark at kclark@cincinnatichamber.com
Chamber Members Single – $3,000 | Participant + Partner – $3,500
Non Chamber Members Single – $4,000 | Participant + Partner – $4,500
*Partial scholarships may be available for those with financial need, and can be requested within the application. Payment plan options are also available.
What past participants had to say...
Being surrounded by all these diverse change makers through this program has opened my eyes to the astonishing dedication my classmates have in not only their careers but in making Cincinnati a better place to live, work and play in. Since joining C-Change, I have been nominated by the Board of Governors and accepted into the Roebling Society within the Metropolitan Club. I feel confident it's unlocked that next level for me in my career in ways I couldn't have imagined.
Supervisor, Purchasing and Policy Assembly
Constellation Insurance, Inc.
My C-Change experience has been rewarding and beneficial to my leadership and networking development. Also, I've had the opportunity to work closely with other young professionals to support a non-profit on a key project. This has challenged me to think and problem solve differently.
Community Executive Director
YMCA of Greater Cincinnati
Not only did C-Change help me in many areas of my personal leadership development, but it also opened up an entirely new network of passionate Cincinnatians that I will continue to stay in contact with for years to come. Throughout the program, I engaged with the city of Cincinnati in ways that I never have before in my 30+ years living here. This experience isn't replicated anywhere else, and I highly recommend it to any passionate and driven professional.
Director of Corporate Development
C-change helped me connect to other professionals in the Greater Cincinnati Region in a way that I would not have been able to otherwise. I came home on the first day sharing with my family, friends, and peers about how amazing my day was and how much I knew I would enjoy the program.
Vice President, Manager, Inclusion and Diversity
This has been the best opportunity I have found to connect with individuals in the city that are interested in moving the needle in causes we all care about. I really appreciated how intentional and thoughtful each program session was and truly looked forward to meeting each month.
Sr. Client Services Manager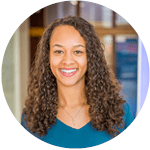 Kabrella Clark
Talent Connections Manager
Discover the Right Leadership Center Program for You
The Leadership Center at the Cincinnati Regional Chamber offers leadership development programs that are built to grow and strengthen the regional talent base by developing civic-minded leaders. If you're an individual looking to apply or a talent leader interested in sending employees through our programs, let us help you find the programs best suited for your goals.